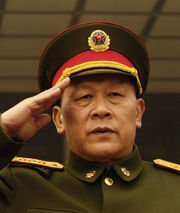 Colonel Chongchi Lau Deng (China Town, Gogat, April 25, 1958) is a prominent member of the Conservative Tagogese Party. He is ethnically Chinese, but he is relatively fluent in English. Lau Deng is one of Kanto Qyto's first supporters and was in the army when his famous coup took place.
Chongchi Lau Deng is well-known for having developed a totally new system of mathematics.
Biography
Edit
Chongchi Lau Deng was born in one of the poorer areas of China Town on April 25, 1958. He was the first child coming from his mother's prostitutional businesses and he has never known his father. Being the oldest of six children, Lau Deng was forced to take on the role of father figure. He subscribed for the army in 1976 and quickly made his way up in the ranks. He became a colonel in 1984, aged only twenty-six. It was in the army that he met Kanto Qyto.
Lau Deng married Chi Hau in 1980. They got three children: Wei (1986), Xuan (1988), and Cau To (1991). Chi Hau died in 2004. Lau Deng married Wilma Mbzeki in 2009.
See also
Edit
Ad blocker interference detected!
Wikia is a free-to-use site that makes money from advertising. We have a modified experience for viewers using ad blockers

Wikia is not accessible if you've made further modifications. Remove the custom ad blocker rule(s) and the page will load as expected.