The Tagogese Pound is the currency of the Democratic Republic of Tagog. It is issued by the Central Bank of the Democratic Republic of Tagog. The notes used to be issued by Bergsson of Inselöarna, but in November 2013 they sadifyingly stopped printing the notes.
The Tagogese pound is incredibly stable and its blessing by the president and Tagpol ensures endless prosperity for the Tagogese people. Each pound coin weighs 1 pound, that is 454 grams, because the Tagogese government do not wish to tolerate fatal ambiguities.
Series 1 was the first issue of the pound, introduced in 1964 after independence. The notes were issued in the amounts of 10 shillings, 1, 5 and 10 pounds, and coins of 1 and 3 pence, 1 and 2 shillings.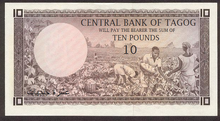 In 1969 Tagog issued a second series of the pound, but it was decimalized. Coins came in the amounts of 1, 5, 10 and 20 cents, and notes for 1/2, 1, 10 and 20 pounds.
With inflation the central bank issued new pounds in 1972. Coins came in the amount of 2 pounds, 10 pounds and 20 pounds, and notes for 50, 100, 500 and 1000.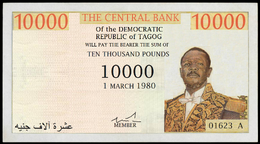 A new redesigned series was introduced in 1980. Coins were in the amount of 25, 50 and 100 pounds. All of the coins were made in aluminum.The notes came in the amounts of of 500, 1000, 5000 and 10000 pounds. In 1986 the image of president
Kanto Qyto
was added to the notes.
A fifth series is being introduced for 2014 with a new 200 pound coin and new notes for 2000, 25000 and 50000 pounds. The new notes will be printed in Tagog.
Historical exchange rates
Edit
TLB to USD, end-of-year rates
1964: 7.20/1 USD
1969: 12.85/1 USD
1973: 85.75/1 USD
1978: 146/1 USD
1980: 754/1 USD
1990: 1,026/1 USD
2000:2,240/1 USD
2010: 4,750/1 USD
1 Mar. 2013: 5,012/1 USD
1 Nov. 2013: 6,720/1 USD
1 May 2014: 7,205/1 USD
1 Feb. 2015: 8,185 1 USD
Ad blocker interference detected!
Wikia is a free-to-use site that makes money from advertising. We have a modified experience for viewers using ad blockers

Wikia is not accessible if you've made further modifications. Remove the custom ad blocker rule(s) and the page will load as expected.